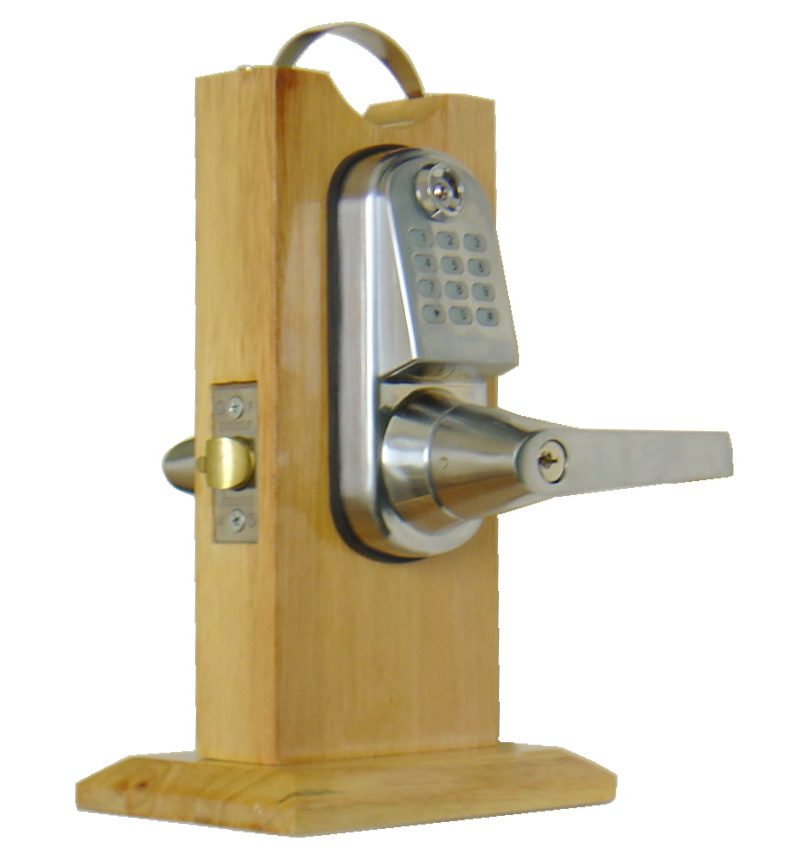 Keypad: 12 numeric buttons
Access Type: IButton, Keycode, or Dual Access
Set Up Method: Using function codes to setup users from Keypad
Programming: Via keypad only
User Capacity: 299
Power Supply 4 standard AA batteries with 10,000 operations Low battery warning.
Auto Lock/unlock Function: Set the lock to automatic lock/unlock at preset time or day.
Storehouse Mode or Classroom Mode: Yes
Audit Trail: N/A
Finish: Brushed Chrome
Handles: Lever type, Left or Right hand
Key Bypass Standard Schlage C6. Or Best IC (Special Order)
Door Preparation Standard ANSI A115 Series Prep, modified by adding additional 5/8Ħħ through-bolt holes to add stability to the lock and increase security.
Strike Plate ANSI Standard 115.3. 1-1/8 x 2-3/4 inch T strike with 1-1/4 lip-to-center dimension.
Latch Tubular. 2 3/4 inch backset standard (2 3/8 inch backset optional), solid brass with 1/2 inch throw. 1-inch diameter bore is required.
Materials Zinc Alloy
Accessibility Standard Meets ADA standards Americans with disabilities act.